ABB motors and variable speed drives keep chickens cool in Mexico while saving energy
Success story | Southern Mexico | 2021-10-19
Summers are hot near Mexico's southern border, with temperatures hovering near 100 degrees Fahrenheit (38 degrees Celsius). Inside a chicken house however, the heat can become unbearable. Egg-laying chickens on a poultry farm can be particular. Like humans, they do some of their best work when they're comfortable - and that includes the temperature. 65 to 75 degrees is perfect for egg production, but as temps begin to creep into the 80s, egg size may be reduced, shell quality may suffer, and the chickens will lay eggs less often. Anything hotter than 90 leads to discomfort, reduced appetite and agitation, and 100 degrees is where the chickens' health begins to suffer.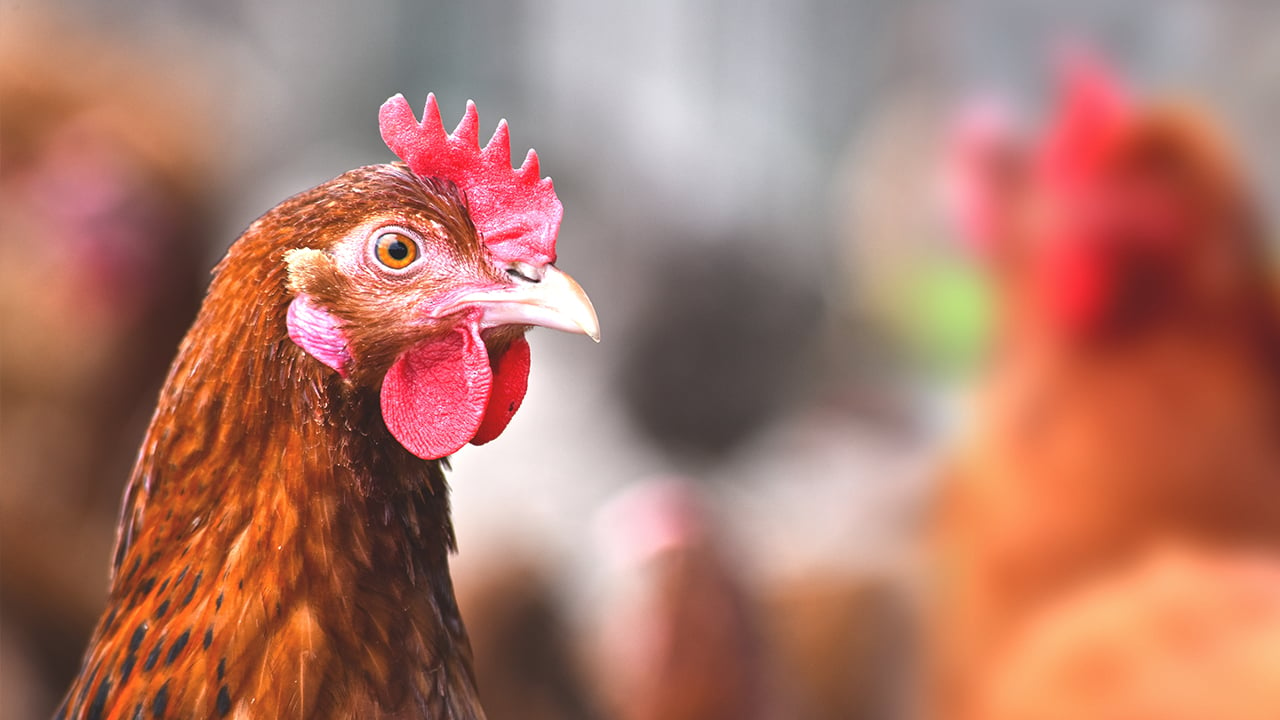 Poultry do not sweat and therefore must dissipate heat in other ways to stay cool. Birds in a chicken house depend on adequate air velocity or cool conditions to allow them to maintain optimal body temperature. During the summer, when the temperature and humidity are high, proper poultry house ventilation is vital to ensure the necessary removal of heat and the continued productivity of the flock.
In addition to the health of the chickens, large-scale poultry operations need to consider electricity, water and waste management, among other costs. Recently, an ABB customer in southern Mexico was looking to increase the comfort of a nearly 13,000-bird flock while reducing energy consumption and promoting sustainability at the company's chicken farms. In collaboration with ABB Mexico's system integrator, CEySI, ABB configured a solution comprised of Baldor-Reliance® EC Titanium™ motors and ACS380 series variable speed drives (VSDs). EC Titanium motors utilize a highly efficient rotor technology that, when paired with an ABB VSD and advanced motor control algorithms, enables higher efficiencies across the full speed load for a sustainable, wirelessly connected solution.
For the initial investment, the customer purchased 12 EC Titanium motors with matching VSDs. The results were immediate and significant.
Energy savings of approximately 15 percent at full load operation. When VSDs are used, energy savings can be 25 percent or more, especially on partial loads.
25 percent greater airflow inside the chicken houses – approximately 100 cubic feet per minute (CFM) more than with conventional technology. The use of ACS380 VSDs allows for better management of air flow resulting in cooler-running motors.
The ability to control the hours of operation and maintenance of each air extractor.
Solar panels (PV panels) situated on the roof, connected to the ACS380 VSDs, provide free and clean energy during daytime. The strong correlation between the need to ventilate and use sun power results in lower energy cost while the ventilation levels are higher. The VSDs run directly on DC from the PV panels, so there is no need for a DC/AC converter. Fewer system components mean lower energy costs and less dependence on the weak mains grid.
Fewer air extractors are needed to move air through the facility, reducing equipment and maintenance. Prior to the upgrade, each chicken house used eight 48-inch extractors, and now they get improved performance with six 54-inch extractors. The 25 percent improvement in CFM not only moves more air to keep the chickens cool, but it helps reduce CO2 and ammonia for the benefit of the birds, which translates into greater bird comfort. Constant air flow also means greater water savings through improved inlet cooling system evaporation.
ABB is an established brand in Mexico with a positive reputation­. Our four locations throughout Mexico help customer to solve the difficulties of productivity, availability, reliability, safety, costs, energy savings and emission reduction. ABB provides 24-hour technical support, as well as parts and service through authorized partners. For more information (available in Spanish), visit ABB Mexico.